Anna-Maria Kovacs speaks at American Consumer Institute event on Capitol Hill
Posted in Announcements News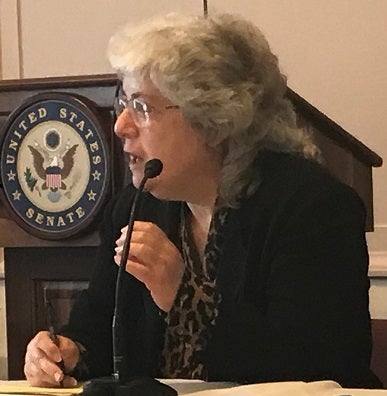 On October 31, 2017, Anna-Maria Kovacs was on a panel of experts on Capitol Hill to discuss Encouraging 5G Wireless Broadband Services: Benefits and Roadblocks (new window). The event was hosted by the American Consumer Institute.
Event Summary
The panel covered the following topics and questions when considering the hurdles to next generation wireless (5G) deployment.
An estimated $275 billion is needed to upgrade the nation's wireless infrastructure over the next 7 years. Add to this cost the daunting task of overcoming onerous regulations that sometimes delay or block permits and significantly raise investment costs – spread across 50 states, 3,000 counties and 20,000 incorporated places. It can be progress denied for millions of wireless broadband consumers.
How much economic growth could be lost by excessive state and local regulations? What are the costs of permit delays? How many jobs are lost from red tape? Are there workable policy solutions that can encourage investment and network deployment?
Panelists
Jonathan S. Adelstein, Pres. & CEO, Wireless Infrastructure Assoc., Former FCC Commissioner
Doug Brake, Information Technology and Innovation Foundation
Wayne Crews, Competitive Enterprise Institute
Bill Hackett, Director of Federal Regulatory Compliance, T-Mobile
Anna-Maria Kovacs, Georgetown Center for Business and Public Policy
Steve Pociask, American Consumer Institute