CBPP hosts forum on Regulatory Reform in the Communications Sector
Posted in Announcements News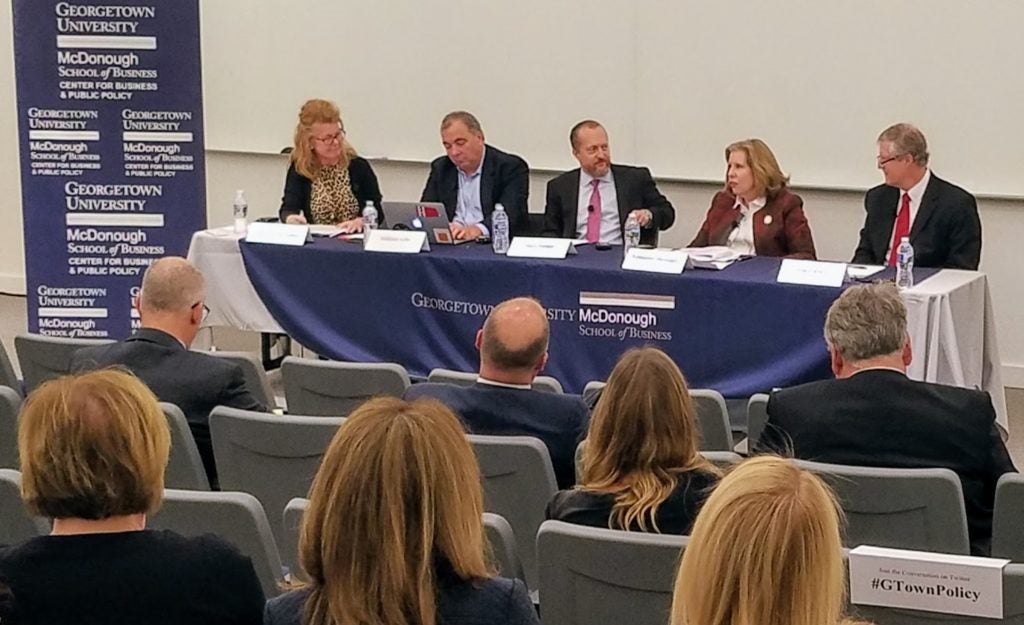 It is no secret that the country is divided. Citizens have increasingly retreated to, or have been drawn to, information streams that identify different profound problems facing the country and which offer vastly different solutions. These different streams of information create and reinforce knee-jerk resistance to policy proposals from the opposition political camp and block opportunity.
This ideologically induced stalemate need not, however, extend to all areas of policy reform. Indeed, in the realm of regulatory reform in the communications sector a number of specific steps can be identified for which practical opportunities for improving economic welfare exist. These opportunities create the potential for practicality to forge agreement even in the face of more widespread ideological discord across our society.
The Georgetown Center for Business and Public Policy's Project on the Evolution of Regulation and Innovation had a robust discussion of regulatory reform options in the communications sector that create the potential for both practical agreements and improved economic performance. The panel discussion was moderated by Carolyn Brandon, Senior Industry and Innovation Fellow, Georgetown Center for Business and Public Policy. Panelists included:
Kathleen Q. Abernathy, Special Counsel, Wilkinson Barker Knauer, LLP and Former FCC Commissioner (2001-2005)
Samuel Feder, Managing Partner and Co-chair of the Communications, Internet & Technology Practice, Jenner & Block
William Lehr, Research Associate in the Computer Science and Artificial Intelligence Laboratory (CSAIL), Massachusetts Institute of Technology
John W. Mayo, Professor of Economics, Business, and Public Policy at Georgetown's McDonough School of Business and Executive Director, Georgetown Center for Business and Public Policy Video footage of the event will be forthcoming.
Media Coverage
Are FCC Regulations in the 'Public Interest' Costing Consumers? (new window), Inside Sources by Nihal Krishan (October 19, 2017)
During the discussion John Mayo said that "it's hard to self discipline the FCC and its broad interpretation of 'public interest' – which could include building swimming pools in the states where a review process is occurring." Furthermore he argued that the FCC's "current regulatory framework causes upward pressure on prices in the telecom industry or at the least causes prices to decrease slower than they would otherwise."