CBPP hosts policy forum on the United States – Korea Free Trade Agreement: Is it working for Americans or does it need revision?
Posted in Announcements News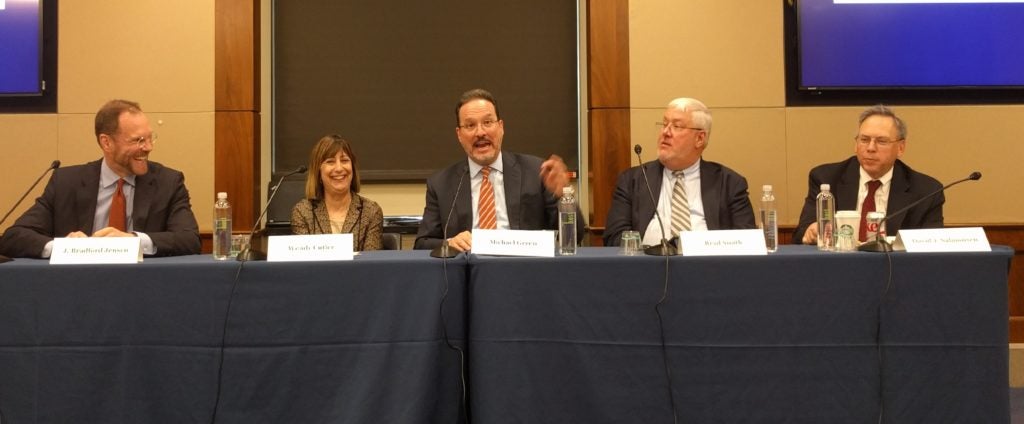 On October 6, 2017, the Georgetown Center for Business and Public Policy (CBPP) hosted its latest Georgetown on the Hill event with a group of industry experts organized by J. Robert Vastine, Senior Industry Fellow, CBPP. The discussion explored the pros and cons of the United States – Republic of Korea Free Trade Agreement (KORUS), and how KORUS secured the framework of U.S.-Korea trade and investment. For the U.S. services sector, KORUS is the "gold standard" among U.S. trade agreements, and as such it may serve as the basis for future agreements. Nonetheless, there are others who hold that KORUS disadvantages the United States and who do not support it.
Wendy Cutler, Vice President and Managing Director, Asia Society Policy Institute, offered introductory framing remarks, followed by a panel discussion moderated by J. Bradford Jensen, Senior Policy Scholar, CBPP, and McCrane/Shaker Chair in International Business, Georgetown University McDonough School of Business to offer insights about whether KORUS is working for Americans, or whether it needs revisions.
Panelists included:
Michael Green, Associate Professor of Asian Studies and Foreign Service, Georgetown University
David J. Salmonsen, Senior Director of Congressional Relations, American Farm Bureau Federation
Brad Smith, Chief International Officer, American Council of Life Insurers