Center leaders John Mayo and Marcia Mintz partner with MBA program at McDonough School of Business to launch certificate in nonmarket strategy
Posted in Announcements News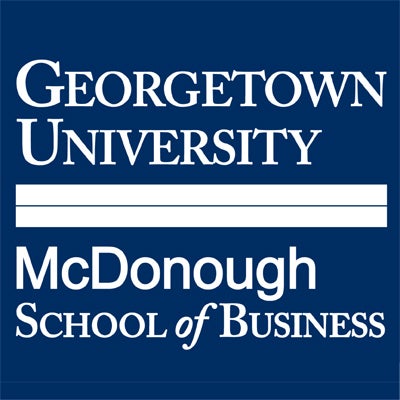 Georgetown University's McDonough School of Business is launching an MBA Certificate in Nonmarket Strategy, open to both full-time and evening MBA students. This certificate program offers students the opportunity to explore the nexus of business, economics, and public policy, connecting the strengths of the school's faculty and the MBA curriculum to the rich resources of Washington, D.C.
"Through Georgetown McDonough's connections in D.C., this certificate program offers unparalleled access to business leaders, thought leaders, and policy leaders," said John Mayo, professor of economics, business, and public policy. "In this respect the certificate will offer our MBA students a marvelous opportunity to both deepen and enrich their graduate school experience. I am extremely excited about this program for our students."
The MBA program created the certificate program for students to develop a deeper understanding of the ways in which business success and principled leadership are shaped by complex regulatory, political, cultural, and social forces beyond the market and the relationships and interactions among firms, governments, and the public.
"Certificate-achieving graduates will be poised for extraordinary business leadership and service, whether through direct managerial and executive leadership in public and private firms, consulting, board membership, or other specialized roles" said David A. Thomas, Georgetown McDonough dean and William R. Berkley Chair.
The business sub‐discipline of nonmarket strategy brings rigor and managerial perspective to exploration and understanding of the interaction of firm strategy and public policy. Students who elect to enroll in the certificate program will take a 12‐credit sequence of integrated MBA core and elective courses to reinforce their understanding of and extend their exposure to the business challenges and opportunities in the nonmarket environment from the perspective of the firm.
The school developed three new elective courses for the program:
The Miracle of Markets?, which focuses on the potential for and perils of markets as the mechanism to allocate society's resources;
Strategies Beyond the Market, which focuses on firms' strategies to compete successfully in imperfect markets; and
The Nonmarket Environment in DC, which extends across three semesters and blends classroom instruction with attendance at "only in DC" events to observe up close and interact directly with business leaders, government officials, members of Congress and other policymakers, members of interest groups and industry alliances, activists, and the media.
"We've structured the certificate coursework so that faculty and students will draw connections across the MBA curriculum and make connections across DC," explained Marcia Mintz, director of the Nonmarket Strategy Certificate Program. "It will be a fun and engaging way to develop a more sophisticated appreciation of and respect for the dynamics of the nonmarket environment."
For more information, contact marcia.mintz@georgetown.edu.