The Power Shift Forum for Women in the World Economy
Posted in Announcements News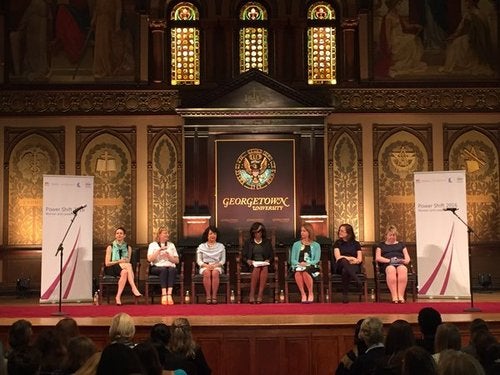 The Power Shift Forum for Women in the World Economy (new window) is an annual symposium on women as economic actors in the global marketplace led by the Saïd Business School, University of Oxford. Power Shift 2016: Women and Leadership was hosted at the McDonough School of Business at Georgetown University on May 4 – 5, 2016. Senior Policy Scholar Catherine Tinsley (professor of management and faculty director of the Georgetown University Women's Leadership Institute) and Ambassador Melanne Verveer (executive director of the Georgetown Institute for Women, Peace and Security) co-hosted the symposium and led several sessions, including "The Hidden Barrier" (Tinsley), "Moving the Needle" (Tinsley), "A Few Good Women" (Verveer), and "Leading Through Partnership" (Verveer). See the full program (new window).
To supplement the Power Shift program, on Wednesday, May 4, 5 – 6 pm in Gaston Hall, the Georgetown University Women's Leadership Institute sponsored a debate on one of the most intellectually and morally challenging proposed solutions to further women's advancement and corporate diversification – gender quotas and voluntary targets. Audience Q+A followed the debate.
Presiding: Paulette Brown (partner and co-chair of the firm-wide Diversity & Inclusion Committee at Locke Lord LLP; president of the American Bar Association)
(new window)
Propose: Joanna Maycock (Secretary General of the European Women's Lobby), Hilary Gosher (managing director at Insight Venture Partners), Irene Natividad (Chair of Corporate Women Directors International)
Oppose: Mary Goudie (Labour member, House of Lords and Founding member, The 30% Club), Kimberly Weisul (Editor-at-Large, INC magazine and Inc.com)
Note: This debate was presented to provoke thought and discussion. The opinions expressed by the debaters were not necessarily their own. The debate was open to the public.
Also see, "Gender Diversity on U.S. Corporate Boards: Are We Running in Place?" by Catherine Tinsley with co-authors James Wade of George Washington University, Brian G.M. Main of University of Edinburgh, and Charles A. O'Reilly of Stanford University. To move the needle on gender parity in the board room, the study suggests that the number of women in the candidate pool needs to be increased.