Macher and colleagues file amicus brief
Posted in News | Tagged News - Health Services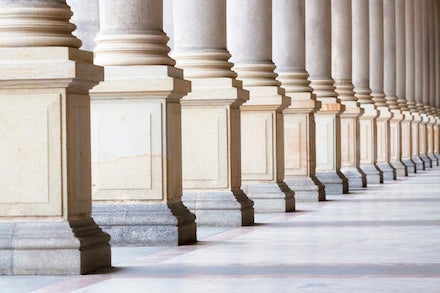 On December 21, Center for Business and Public Policy Academic Director Jeff Macher, along with eleven other signatories, submitted an amicus brief (new window) to the United States Court of Appeals for the Third Circuit. The brief was filed in support of appellees Warner Chilcott Public Limited Company, Warner Chilcott Company, LLC; Warner Chilcott US, LLC; Maybe Pharma Group Limited; Mayne Pharma International PTY, Ltd., v. appellant Mylant Pharmaceuticals, Inc. The issue before the 3rd Circuit is whether a company has an antitrust duty to leave its old product on the market in order to give generic competitors an opportunity to enter. No patent protects against entry, so this is purely a question of whether the antitrust laws should require manufacturers to continue to manufacture and market old versions of a branded product to facilitate entry by competitors.
The case concerns the sale of branded doxycyclene (Doryx), which is sold to treat acne. The manufacturer (Warner Chilcott) made product improvements to Doryx to address consumer needs, creating a new tablet form that can be broken up to split dosages and discontinuing the old product in capsule form. While the District Court found that Warner Chilcott's introduction of new versions of Doryx, coupled with the later withdrawal of predecessor versions, did not violate the antitrust laws, the case is being appealed in the 3rd District Court, where the appellant is seeking that the court order a post-hoc requirement for Warner Chilcott to continue manufacturing the old product as an anti-trust duty, among other damages.
Macher, along with his co-signatories, argue in the brief that this is an inappropriate use of the antitrust laws and generic drug legislation that ultimately undermines fair competition and innovation.