2016 Business and Public Policy Forum
Posted in Conference Events | Tagged Events - Digital Economy, Events - Health Services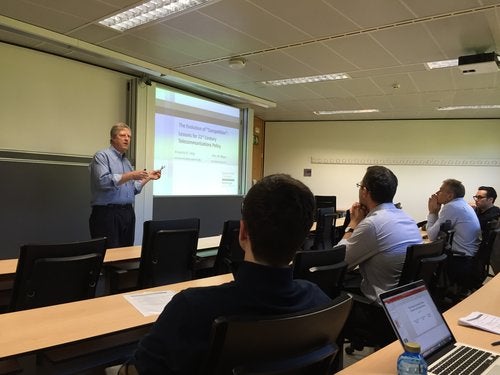 Date: Friday, April 22, 2016 – 8:00am to Saturday, April 23, 2016 – 12:00pm
Location: ESADE, Barcelona, Spain
The annual Business and Public Policy Forum was held at ESADE in Barcelona on April 22-23, 2016. This two-day conference brings together scholars from Georgetown University, ESMT, INSEAD, and ESADE, who meet once a year in the spring to share recent research and discuss topics in the area of business and public policy.
At this year's forum, the recent work of five Center faculty, scholars, and researchers was highlighted. Jeffrey Macher presented "Does the Internet Improve Health Behaviors and Outcomes? Evidence from the National Health Interview Survey," a paper co-authored with John Mayo and Olga Ukhaneva.
John Mayo presented "The Evolution of 'Competition': Lessons for 21st Century Telecommunications Policy," a paper co-authored with Amanda Delp.
Center Policy Scholar Antonio Fatas (also of INSEAD) presented, "The Permanent Effects of Fiscal Consolidation."Event File: