The Economics and Regulation of the Freight Rail Industry, Second Annual Research Colloquium
Posted in Conference Events | Tagged Events - Rail Industry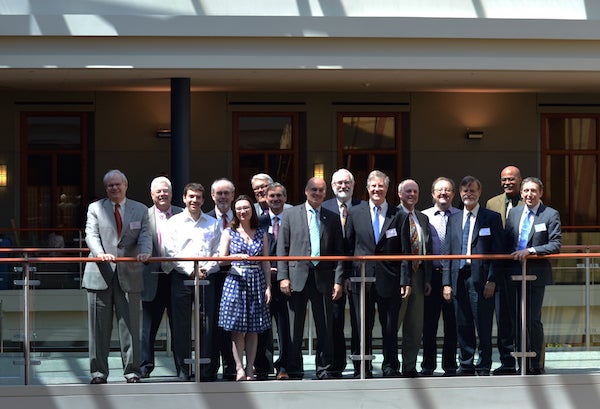 Date: Friday, June 10, 2016 -8:00am to 5:15pm
Location: Rafik B. Hariri Building, McDonough School of Business, Georgetown University, Washington, DC
The Staggers Rail Act of 1980 largely but not completely deregulated the U.S. freight rail industry. More than thirty years of hindsight affords a rich opportunity for fresh economic analysis of both the economics and the regulation of the railroad industry.
On Friday, June 10, the Georgetown Center for Business and Public Policy hosted the Second Annual Research Colloquium on the Economics and Regulation of the Freight Rail Industry. The Colloquium was launched at the Center in June 2015 to promote new economic research and extend understanding of the freight rail industry. The Colloquium assembles academics, rail industry practitioners and specialists, industry leaders, government officials, and policymakers and fosters open and well-informed discussion around key economic and policy issues of the freight rail industry.
The 2016 Colloquium featured keynote remarks by the Honorable Daniel R. Elliott III, Chairman of the Surface Transportation Board.
You can also download our Policy Event Summary with colloquium handouts and updating links to presentation information (slides, papers, video) as it becomes available.The Economics and Regulation of the Freight Rail Industry
Second Annual Research ColloquiumWelcome and Introduction
(Video (new window)) John Mayo, Georgetown University "The Role of Sunk Costs in the Freight Rail Industry"
(Video (new window)) Mark L. Burton, University of Tennessee
Robert Gallamore, The Gallamore Group "General Equilibrium, Spatial Linkages and the Evaluation
of Cost-Reducing Transportation Investment"
(Video (new window)) Ferdinando Monte, Georgetown University
LIGHTNING ROUND PRESENTATIONS "The Strange Career of Independent Voting Trusts in U.S. Rail Mergers"
(Video (new window)) Russell Pittman, U.S. Department of Justice "The Political Economy of Railroad Costing"
(Video (new window)) William Huneke, Surface Transportation Board "The Evolution of Contracting: Evidence from the
Deregulated Freight Rail Industry"
(Video (new window)) Jeffrey Macher, Georgetown University
John Mayo, Georgetown University "The Ties That Bind: Railroad Gauge Standards and Internal Trade in the Nineteenth Century U.S."
(Video (new window)) Daniel P. Gross, Harvard Business School "Shipper Investment in Railroad Loading/Unloading
Facilities, 2004-2013"
(Paper • Slides • Video (new window)) Kenneth D. Boyer, Michigan State University Introduction to the CBPP Rail Research Compendium Amanda Delp, Georgetown University

Colloquium Keynote: The Honorable Daniel R. Elliott III
Chairman, Surface Transportation Board (Video (new window))
"Simulating contestability in freight transportation –
The Canadian grain handling and transportation system"
(Paper • Video (new window))
James Nolan, University of Saskatchewan "Pricing Freight Transport to Account for External Costs"
(Video (new window)) David Austin, U.S. Congressional Budget Office "The Derived Demand for Rail and Truck"
(Video (new window)) Gerard McCullough, University of Minnesota "Allocative Efficiency in the U.S. Railroad Industry: Changing Work-Rules and Managerial Flexibility"
(Video) (new window) Azrina Abdullah Al-Hadi,
Universiti Kebangsaan Malaysia (not present)
James Peoples, University of Wisconsin-Milwaukee Closing Remarks
(Video (new window)) John Mayo, Georgetown UniversityEvent File: