Tinsley discusses her research on women's self-confidence at the 47th World Economic Forum
Posted in Events Gender Gap News | Tagged Events - Gender Gap, News - Gender Gap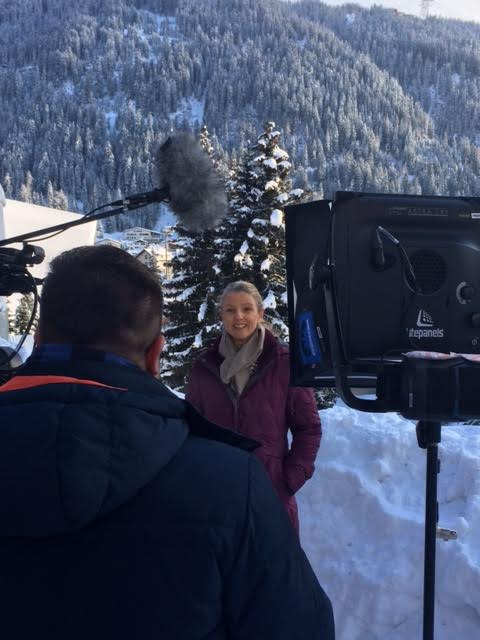 Wednesday, January 18, 2017
Georgetown Center for Business and Public Policy senior policy scholar and McDonough School of Business professor Catherine Tinsley attended the 47th Annual World Economic Forum meeting in Davos, Switzerland. Tinsley addressed a group of business executives and policy makers at a luncheon session, highlighting her empirical research with Tupperware Brands that explores ways companies can activate women's self-confidence and how self-confidence affects women's economic advancement across the globe.
This research, in collaboration with colleagues Jason Schloetzer and Matthew Cronin, employed both a field experiment and a large-scale survey to demonstrate that self-confidence has a positive impact on workers' perceived and actual success in the workplace. For example, confidence within the Tupperware Sales Force results in higher sales and recruiting numbers, which are in turn associated with economic gains. Similarly, worker confidence across multiple industries was linked to greater worker productivity, innovation, and problem-solving.
The research tested and validated the notion that building confidence can be a relatively straightforward process of reframing failure experiences. Organizational messages that repositioned failure as a learning experience were associated with higher worker confidence across genders, multiple industries, and countries.
According to Tinsley, "Though our a priori idea that reframing of failure would boost worker confidence and lead to more economic success seemed reasonable, it was still important to validate it using rigorous experimental methodology. We did so because sometimes reasonable ideas turn out to not be true, and other times there is more to the story. For example, it seems reasonable that workers with higher self-esteem would also have more success, but that is not always true. It turns out that self-esteem is great for getting a job, but not necessarily for keeping one. That is where confidence actually comes in. Confidence is more than just self-esteem or a fixed idea that one has value. Confidence is a belief in one's ability to get things done, and our research shows it is a belief that can be cultivated and nurtured."
"As well as with self-esteem, with confidence there is also 'more to the story,'" Tinsley added. "Surprisingly, we found that the organizational message to reframe failure cannot just come directly from a supervisor – it has to come from the organizational culture than conveys and reinforces the confidence-boosting message that setbacks, bumps and 'failures' are a normal part of everyone's journey. Failures can be the launching pad for success, and they can inspire us to think creatively and positively."