Broadband and Tech Industry updates. A conversation with Recon Analytics' President, Roger Entner
Posted in Events Lunch Nuggets | Tagged Events - Digital Economy, Little Nuggets of Tech and Telecom
Date: Wednesday September 21, 2022 at 12:00pm ET
---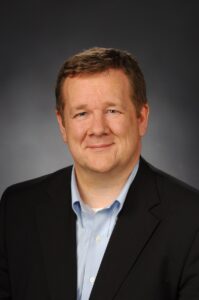 Analyst and Founder of Recon Analytics LLC, Roger Entner, joined the Georgetown Center for Business and Public Policy to provide important updates on the current state of the Broadband and Tech Industry. The conversation touched on what is happening in spectrum space, developments in the mobile market, and Roger's recent feature in an article posted by Fierce Wireless. Our key takeaways:
Spectrum Allocation: The federal government is dragging its feet in offering licensed, exclusive use spectrum to the market. This reality is particularly concerning considering new research confirming the U.S. is at risk of losing its lead to China and other countries in the amount of licensed mid, low- and high-band spectrum allocated for 5G. Co-host Jen Fritzsche reiterated the investment community's consensus on there being a desire and need for access to additional licensed, exclusive use spectrum.
Will Fixed Wireless Take Down Cable? There was a divergence of opinion between Entner and co-host Jen Fritzsche on the potential of fixed wireless to take market share away from cable. While Jen is "less bullish" on fixed wireless and believes fiber still has the advantage, Entner notes that fixed wireless will have a "massive" quarter, with Verizon adding up to 400,000 new adds and another 1 million people at T-Mobile. 
CBRS – Worth the Effort?  Roger Entner decried the large amount of spectrum set aside almost a decade ago for experimenting with CBRS as a potential model for sharing.  Entner made the point that the country has little to show for the opportunity.  He reminded us that the CBRS allocation was supposed to be the band to attract innovators but he can't find anyone using it for more than localized, private solutions.  At a time when there is a looming spectrum crunch for 5G commercial networks, Mr. Entner suggested the FCC find somewhere other than 5G bands to experiment in.
Watch the Full Discussion on YouTube
---
Little Nuggets of Tech and Telecom — A Lunch Series with Jen and Carolyn is a monthly lunch time discussion series featuring national, international, and local experts from business, law, policy, and economics. For 30 minutes each month, Jen and Carolyn will pose a "What If?" question to analyze different scenarios and factors impacting our sector as they and their guests challenge the status quo on hot topics like how to close the digital divide, the myths of spectrum sharing, and the emerging use cases for 5G that might drive a new wave of growth and innovation in the U.S.